View all events
November 12, 2017
Nicholas Askew, The Cotton King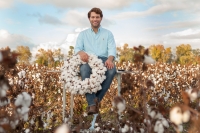 The Wake County Historical Society in partnership with the Olivia Raney Local History Library of Wake County is pleased to present Nicholas Askew, the Cotton King. Nicholas will demonstrate making his fantastic cotton wreaths, discuss how he came to make a career of cotton, and take orders for his creations.
Nicholas Askew creates each of his signature cotton designs using the cotton he hand cuts from White Oak Farm where he grew up. The farm was started by his great grandfather in North Carolina in 1901 and passed down through four generations.
Cotton is part of Southern traditions, and his connection to it has been life-long for Nicholas. Some of his earliest memories are of watching the sunsets casting a mesmerizing glow over the fields. Nicholas studied Horticulture Science at NC State University, rounding out his knowledge of botanical plants and garden design. Every cotton wreath and decorative arrangement is handmade and can be enjoyed year round. Although he currently resides in the Carolinas, his beautiful and elegant pieces are appreciated throughout the country.
General admission tickets will be available at the door. No advanced reservations are required.
Location: Wake County Commons Building, 4011 Carya Dr, Raleigh, NC 27610
Time: 2:00 pm
Fee: $5.00 per person