View all events
June 17, 2024
Annual Meeting of the Wake County Historical Society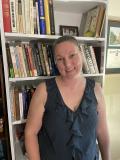 The Annual Meeting will be held at 7 PM at the Mordecai Historic Park Classroom. There will be a short business meeting followed by a speaker, Leslie Meadows, who will discuss the "Role of the Gristmill in the Development of Community in Wake County." to register, please click the link here to be re-directed to the Eventbrite website.
Leslie Meadows will discuss the role of gristmills and why they were central to their community. She will highlight the importance of both the specific business of grinding grains and the other services often found at or near a gristmill, such as a sawmill, a blacksmith, and as a community gathering place. She will also look at how the role of the historic community gristmill has evolved over time, from a vital place of business to a place of education and recreation.
Leslie Meadows grew up in Lexington, VA, where she developed a deep interest in history. She attended Clemson University, earning her BA in history in 2006. She then moved to Raleigh to earn her MA in history from NC State in 2008. Her master's thesis, I am History, Don't Destroy Please: Three Gristmills and Their Communities in Wake County, North Carolina, was written while she worked both on her degree and at Historic Yates Mill County Park. She worked part-time for Wake County parks from 2006-2010. She has worked full-time as a high school social studies teacher, first for Harnett County, and then for Wake County, since 2008. Leslie currently serves as the Secretary for Yates Mill Associates and continues spending time at Historic Yates Mill, volunteering as a tour guide several weekends a month. She is married to Joshua Meadows, and they have 2 daughters, ages 8 and 5.
Due to the soaring costs of catering, the Board decided to discontinue the cocktail half-hour and dinner that the Society has held at past annual meetings.
Register and purchase tickets on EventBrite at this link.
Location: Mordecai Historic Park Classroom in the Visitors Center at 1101 Wake Forest Road, Raleigh.
Time: 7:00 PM- 8:30 PM
Fee: $5 for members; $10 for non-members