View all events
May 8, 2023
May Book Signing sponsored by the Wake County Historical Society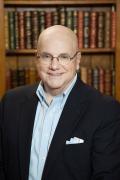 This event is FREE, but we request that you register through the Eventbrite web site by clicking here.
As Hayes Barton turned 100 years in October, 2020 its history was rolling off the presses of a small historic press in Atlantic Beach, chronicled in a 486-page book that author Terry Henderson describes as a "deep dive into long-forgotten stories of the people, places, and events that shaped one of Raleigh's premier neighborhoods." Henderson, who has lived in the neighborhood with his wife Rebecca for 36 years, took 2 ½ years to write the book in preparation for the neighborhood's centennial commemoration.
The book is an entertaining and easily accessible history that primarily covers the eventful first forty years of Hayes Barton's development. In a short story format, it includes accounts of amassed wealth, reversal of fortune, social and political controversy, discrimination and discord, as well as the development of lasting business, governmental, religious, and publishing institutions. Hayes Barton @100 is an honest look at an exceptional neighborhood with a full range of experiences, good and bad, great and small, heartwarming, tragic, thoughtful, inspirational, funny, and in all cases, noteworthy.
Terry Henderson and his wife, Rebecca, are natives of the Hickory area and long-time residents of Harvey and now Vance Street. He is an alumnus of UNC-Chapel Hill with a BA in English and Political Science and a Masters in Public Administration. His early career was devoted to non-profit organizations for improving the quality of local government in North Carolina. After 9/11, he worked for Fortune 500 companies in defense and national security, including as business development director for the Lockheed Martin Corporation [a company with an interesting historical link to Hayes Barton].
History and historic preservation are life-long interests of his and the opportunity to research and write the history for the centennial of Hayes Barton has been a happy and rewarding challenge. He is at work on a second book entitled Tales of Old Raleigh, an equally entertaining book with the focus on little known and long-forgotten stories of important, early people, places and events that shaped the state's capital city.
He notes his book supply is dwindling but autographed copies are still available from him directly at thenderson.1000@att.net or from NOFO and Hayes Barton Pharmacy at Five Points, and from Quail Ridge Books at North Hills.
He invites readers to share stories and comments.
Location: Mordecai Historic Park, Classroom
1 Mimosa St
Raleigh, NC 27604
Time: 7:00 PM
Fee: Free, donations accepted