View all events
September 11, 2023
Book Talk and Signing by Carmen Cauthen on the Black Neighborhoods of Raleigh NC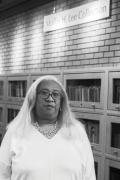 The story of Raleigh's African American communities begins before the Civil War with towns like Oberlin Village, built by free people of color. The creation of thirteen freedmen's villages defined the racial boundaries of Raleigh during Reconstruction and demonstrate the determination and resilience of these formerly enslaved North Carolinians. After World War II, new suburbs sprang up, telling tales of the growth and struggles of the Black community under Jim Crow. Many of these communities endure today. Dozens of never-before-published pictures and maps illustrate this hidden history. Local historian Carmen Wimberley Cauthen tells the story of a people who—despite slavery—wanted to learn, grow and be treated as any others.
Carmen Cauthen is a native Raleighite, from her birth at Saint Agnes Hospital in 1960. She grew up in several historic Black neighborhoods, including Oberlin Village and Madonna Acres, and was raised by parents that prized community, which they served faithfully as a pharmacist and school teacher.
Cauthen fostered her unique affection for the stories of the elders she regularly interacted with in her childhood home, her father's pharmacies and her mother's Bible study meetings. After graduating from North Carolina State University, Cauthen became a clerk for the North Carolina General Assembly, from which she retired after 20 years. Her experience at the NCGA sharpened her research skills — and gave her a unique perspective on the impact that history can have on everyday life.
Cauthen became concerned with Wake County's rising property taxes and development and their impact on long-neglected neighborhoods. In 2019, she started working with a local affordable housing advocacy organization, Wake County Housing Justice Coalition (WCHJC).
That work became a gateway into researching her first love, Raleigh's Black history. Since then, she has become a leading historian on Raleigh's Black communities. Her first book is Historic Black Neighborhoods of Raleigh, which was released in late 2022 through Arcadia Publishing.
Location: TBD
Time: 7:00 PM- 8:00 PM
Fee: Free