View all events
May 13, 2024
Bringing Them Home: Over a Century of Oakwood Cemetery's War Dead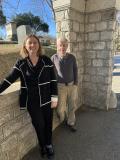 Bruce Miller and Robin Simonton have put together an exciting program for Memorial Day called Bringing Them Home: Over a Century of Oakwood Cemetery's War Dead. Oakwood Cemetery owes its existence to the remembrance of those who fought in war and has always and in many ways honored veterans. This project, however, pays particular attention to those we honor on Memorial Day: Those buried in Oakwood Cemetery who lost their lives in combat or from war-related disease from the Civil War to Vietnam.
Oakwood Cemetery Historian Bruce Miller holds degrees in History from Dartmouth College and UNC. He taught at Ravenscroft School and has lived over 40 years in the Oakwood District. He is a veteran, serving with the "Brown Water Navy" in Vietnam in 1966. He has been a Cemetery volunteer for some 22 years.
Robin Simonton has been the Executive Director of Historic Oakwood Cemetery since November of 2011. Robin holds a BA in US History from the University of Hawaii and an MA in Historical Administration from Eastern Illinois University. She served as the researcher of the book Oahu Cemetery: Burial Ground & Historic Site, written by Nanette Napoleon in 1997 and wrote a case study in the book Cemetery Tours and Programming in 2017 by Rachel Wolgemuth. She and the Cemetery's Historian Bruce Miller wrote Images of America: Historic Oakwood Cemetery, 2017 and Life & Death in High Places, 2022. Robin and her husband Jeff live in Rolesville with their 13 year-old son, Cullen.
To register and purchase tickets visit Eventbrite.com by clicking here.
Location: Classroom in the Visitors Center at Mordecai Historic Park
1101 Wake Forest Road
Raleigh NC
Time: 7:00 PM- 8:30 PM
Fee: $5 for members; $10 for non-members