View all events
May 10, 2019
Bus Tour of Edenton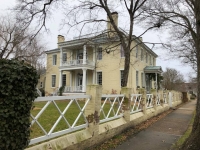 Join WCHS members for an exclusive bus tour of selected sites in historic Edenton, NC. We will depart the Costco parking lot in Raleigh precisely at 7:45 am for just over a two-hour ride in our private 23-person bus to beautiful Edenton, NC. There we will visit four historic sites with behind-the-scenes tours of a private home, Mulberry Hill, Beverly Hall, and the oldest house in North Carolina. We will enjoy a delicious lunch at 309 Bistro. Our return to Raleigh will feature a wine and beer happy hour on the coach. We aim to be back in Raleigh by 6:30 pm. Best suited to those without mobility issues as there will be a lot of walking and climbing steps. Cost of lunch is NOT included in the price. No refunds.
To puchase tickets, visit Eventbrite.com by clicking here.
Location: Meet at Costco Raleigh parking lot in the southwest corner away from
the gas pumps and the building. 2838 Wake Forest Road.
Time: 7:30 am
Fee: $99 per person